LESI
Mission: To enrich the lives of our athletes through the sport of swimming by providing safe and inclusive programming in a culture that encourages competitive excellence and personal growth.
LESI Vision: Lake Erie Swimming, Inc. provides leadership to foster an inclusive environment of competitive and personal excellence through education, support, and opportunities for participation.
LAKE ERIE HEADLINES
Welcome to the following new clubs in LESI for 2022
CLEV - Cleveland State University (Hannah Burandt)
DYP - David YMCA Phantoms (Doug Nist)
HTS - Heights Tigersharks (Dan Budin)
MRAY - Macedonia Manta Rays (Lori May)
NCY - North Canton YMCA (Denette Dearnbarger)
CCS Meet is closed for entries on Friday (6/3)
Attention Summer 2022 Zone Qualifiers
2022 Zones will be held in Elkhart, IN. Meet info and registration to follow, once it is available from the Central Zone and Elkhart location.
Summer Sectionals - July 14-17, Cleveland State Univ.
Congratulations to Piranha Aquatic (PA) on achieving Safe Sport Club Recognition!
2022 LESI Awards Program (Updated) 5/10/22) - Awards
LESI House of Delegates Meeting, Saturday, April 30
2022 LESI Spring HOD Minutes (Draft)
Legislation That Passed at LESI Spring HOD
Registration Stats for LESI 2022 (as of April 29)
2022 Summer Meet Championships
Central Zone Multi-Cultural Meet
June11-12, Evansville, IN
2022 Central Zone Multi Cultural Meet Information Landing Page
2022 Phillips 66 National Championships Time Standards
2022 Speedo Junior National Championships Time Standards
LESI 2022 Registration Information
Links
Link to USA Swimming DEI webpage
Link to Athlete Protection Training
Link to USA Swimming Find a Club
Link to USA Swimming Learn to Swim
Certified Pool List - USA Swimming
LESI eNewsletter -April 11, 2022
(for past newsletters, see Member Resource - Volunteers)
Hunter Armstrong Sets World Record in 50M Backstroke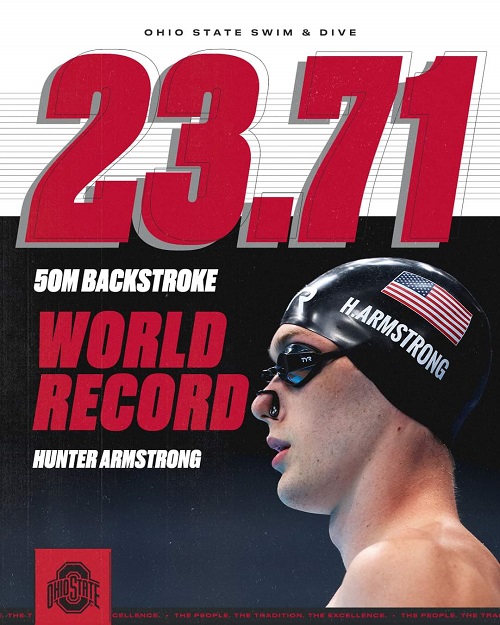 Officials at 2022 Sectionals
Branden Burns and Jen Butler officiating at Speedo Sectionals March 2022 in Indianapolis: