LESI
Mission: To enrich the lives of our athletes through the sport of swimming by providing safe and inclusive programming in a culture that encourages competitive excellence and personal growth.
LESI Vision: Lake Erie Swimming, Inc. provides leadership to foster an inclusive environment of competitive and personal excellence through education, support, and opportunities for participation.
LAKE ERIE HEADLINES
LESI Senior Athlete Award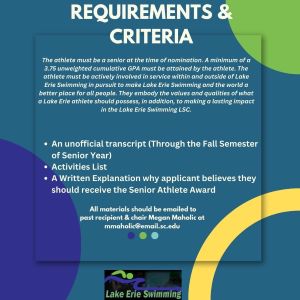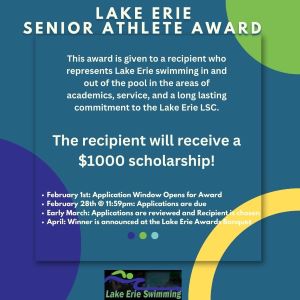 REGIONAL SITES FOR 2023 Regional Meets
*Unattached Swimmers should attend the meet site closest geographically.



LSSC @ River

2/26




SWIM @ Medina

2/26




NCAT @ Solon

2/26




PA @ YSU

2/25

AAC


CSI

FAST

LSSC

LRST

PCP

RAZR

RYD

WEST

BBA

BBSC

GLSS

GYB

HTS

LESD

MRAY

NCY

NCAT

GWA

KS

PA

PAC

PS

PWRS

VSC

WHAT

YYN
2023 Central Zone East Spring Speedo Sectionals
IU Natatorium in Indianapolis March 23-26.
If you have not already done so, this is a reminder to
PLEASE
submit your team's
Intent to Participate form
no later than Friday, December 23.
Your accurate responses are important to help us put together the best competition for your athletes next spring. We ask that you complete this short survey even if you are not planning to attend the meet.
Also, the meet landing page is up on the USA Swimming website including the link to the
hotel reservation site
. The meet announcement should be posted this week. Please be sure to visit the
USA Swimming website
often for all the latest meet information.
In the meantime, please don't hesitate to reach out to me or Arlene McDonald, Co-Meet Director, at arlmcdon@iu.edu with any questions you might have. We hope to see you and your athletes in Indy next March! Thank you!
Cindy Dial, Central Zone East Section Chair
LESI Strategic Plan Feedback/Input https://forms.gle/FL63hJmwQytvAb8v5
LESI eNewsletter - January 21, 2023
(for past newsletters, see Member Resource - Volunteers)
LESI Polcy and Procedures (updated 9/25/22 at Fall 2022 HOD)
Legislation Disposition/Change Document
2022 and 2023 LESI Registration Stats
2022 Fall HOD Budget (approved)
LESI 2023 Registration Information Update (7/21/22)
Club Registrar - Introduction to SWIMS 3.0
2022 LESI Awards Program (Updated) 5/10/22) - Awards
2022 Phillips 66 National Championships Time Standards
2022 Speedo Junior National Championships Time Standards
Links
Link to USA Swimming website for Special Events
Link to USA Swimming DEI webpage
Link to Athlete Protection Training
Link to USA Swimming Find a Club
Link to USA Swimming Learn to Swim
Certified Pool List - USA Swimming
OHSAA
American Swimming Coach Association (ASCA)
Link to Para-Swimming Information and Motivational Time Standards
LESI Swimmers at Jr. Nationals
Congrats to Hudson HEAT swimmer Lucas Lane (Left) for his 12th place finish in the 200 Free and GWA Krys Gorski (right) for his 15th place finish in the 200 Back at Jr Nationals this weekend in Greesnboro
Swimposium 2022